Many videos or audio streaming websites either do not provide an offline feature or require a premium account to save files offline. In this article, I will show you how to free download videos from YouTube and other websites using command prompt.
You may think it may be difficult to memorize all the parameters for command prompt, but it is not. When you get it set up, it is super easy. What's amazing about this is that you can download video and audio from hundreds of websites with a single command.
The setup
This will require you to download an open source program for the official site. If you use Mac or Linux, you need to install it by running a few lines of commands. Let take Windows as an example.
Step 1. Go to the official site to download the program. Just click on youtube-dl.exe to download it.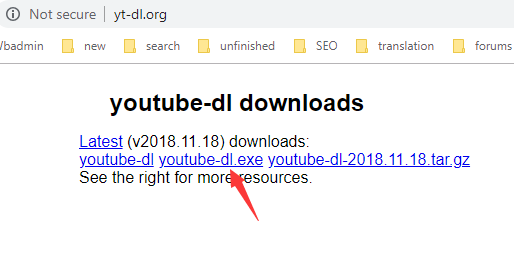 Step 2. Location the downloaded file and move it to your user folder. It should look like this: C:\Users\YourName
That's all for the setup. If you can also rename the file to something shorter, so you do not need to type all these characters when you want to download a file.
Download YouTube a video or multiple videos with a command
Now actually, you can download any YouTube video, playlist, all videos from a user etc. As mentioned, it also supports audio downloading, so you can also download free music from SoundCloud, Deezer, MixCloud, etc. you can also download a music playlist with a single command.
Step 1. Type Windows + R key to bring up Run command.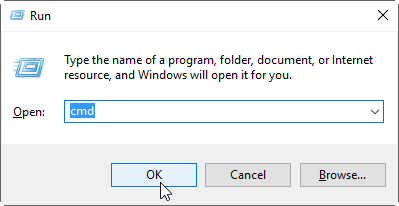 Step 2. Type "cmd" without quote and press Enter.
Step 3. Within the command prompt window, type "youtube-dl.exe [Page URL of the media you want to download]"
After that, you will see downloading progress and estimate the remaining time. If you have renamed the program name, then you should change the command you input accordingly.
By default, the program will save the downloaded file to the user location. If you need to change that, you need to know a little bit more about the available parameters for this program.
Other useful parameters
In order to customize the downloading experience, there are a few common use parameters that you need to know. Well, you can use command "youtube-dl.exe –help" to see all the available parameters.
Specify download location path
To specify the location path for saving the downloaded file. For example, D:\downloader\youtube\, then you should type:
Youtube-dl.exe -o D:\downloader\youtube\%(title)s.%(ext)s https://www.youtube.com/watch?v=AbPegF5zbv8

Of course, you should change the download link to the one that you want to download.
Specify file format
You can use -F to list all the available format that you can download and use -f to select one format to download to your PC.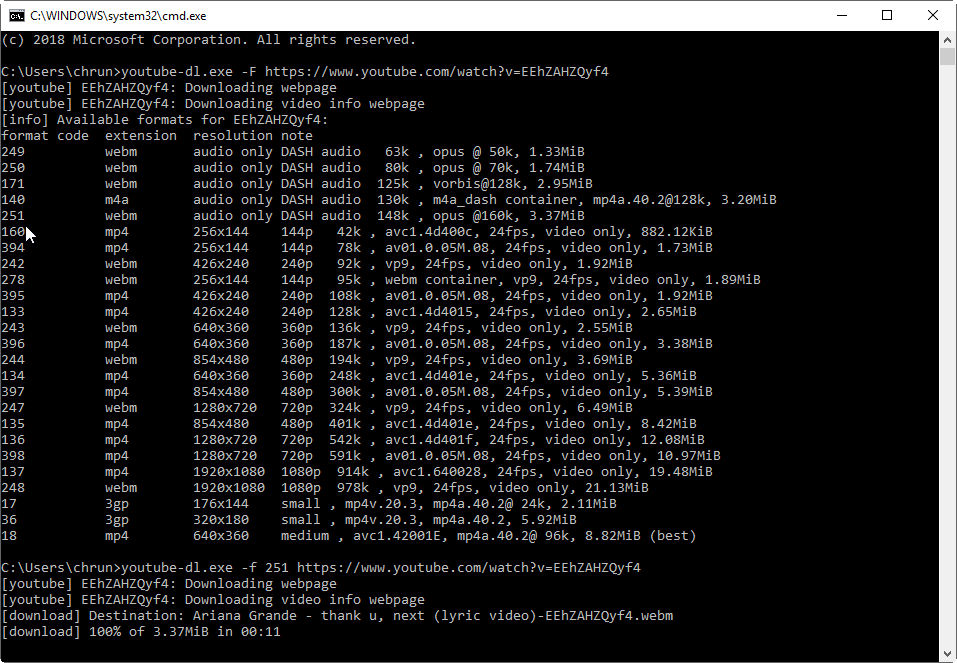 Authentication options
If the video you want to download is not publically available, you need to use authentication option to download the video. For example, to download Facebook private video, use the command like in the screenshot below.

-u, –username USERNAME          Login with this account ID
-p, –password PASSWORD          Account password. If this option is left
out, youtube-dl will ask interactively.
-2, –twofactor TWOFACTOR        Two-factor authentication code
-n, –netrc                      Use .netrc authentication data
–video-password PASSWORD        Video password (vimeo, smotri, youku)
That's how you can easily download YouTube videos from command line. Many other websites are supported. You just need to input the simple command to download all the video and audio from hundreds of website. It is definitely not as difficult as you expected. If you have any question or something i miss, please leave it in the comments section.