When you decided to switch from Apple Music to Spotify, you probably want to also transfer the playlist over. Don't worry. I get you covered. In this article, I will show you 3 methods to transfer Apple Music playlists or songs to Spotify using free tools.
Move Apple Music Playlist to Spotify online without restrictions
The best choice would be a web-based tool which allows you to transfer playlists on many music streaming services including YouTube, Deezer, Spotify, Tidal, Amazon Music etc. since it is a  web tool, you can use it on all of your devices with a web browser.
Whether you prefer Android or iOS, you can use this online service to transfer a playlist to another platform.  It does not require you to sign up or download anything. What's more, you can transfer as many playlists as you want.
Sounds great? You can refer to the steps below to get started.
Step 1. Go to the website: www.tunemymusic.com/. Click Get Started.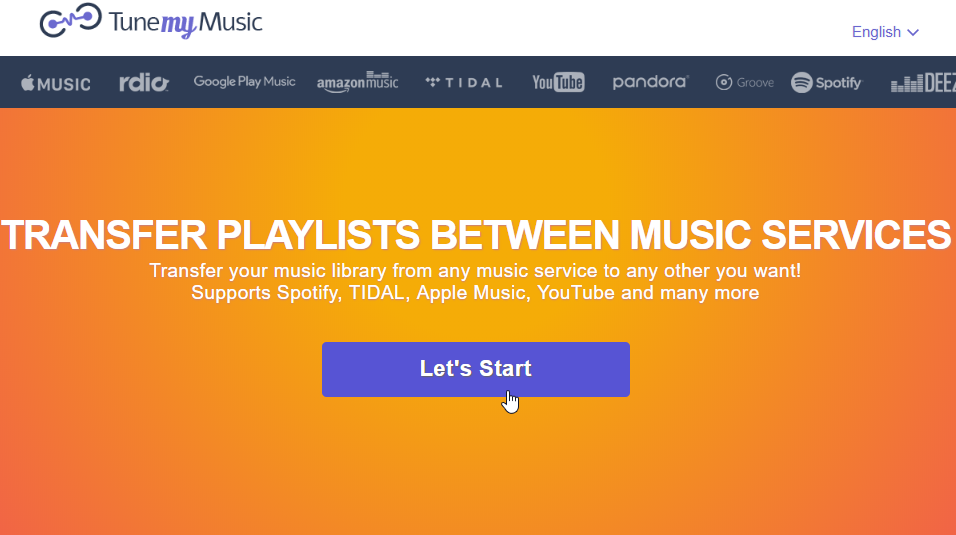 step 2. Select Apple Music. Then Login to your Apple Music account or import your playlist from iTunes XML, which is pretty neat.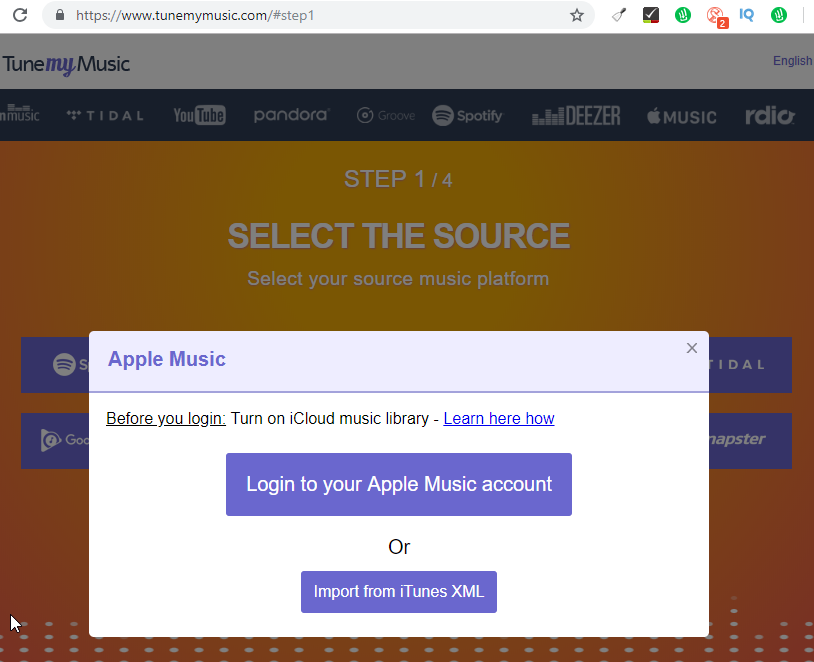 Step 3. Then you select the playlists, library songs, library albums, and library artists that you want to transfer as you can see from the screenshot.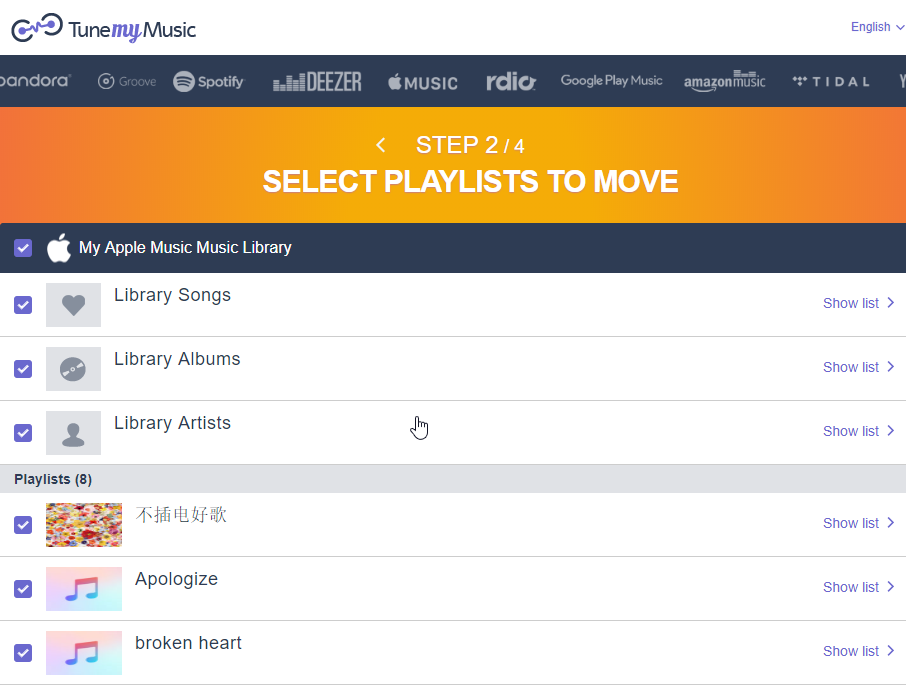 step 4. Select Spotify as the Next Destination and login to Spotify.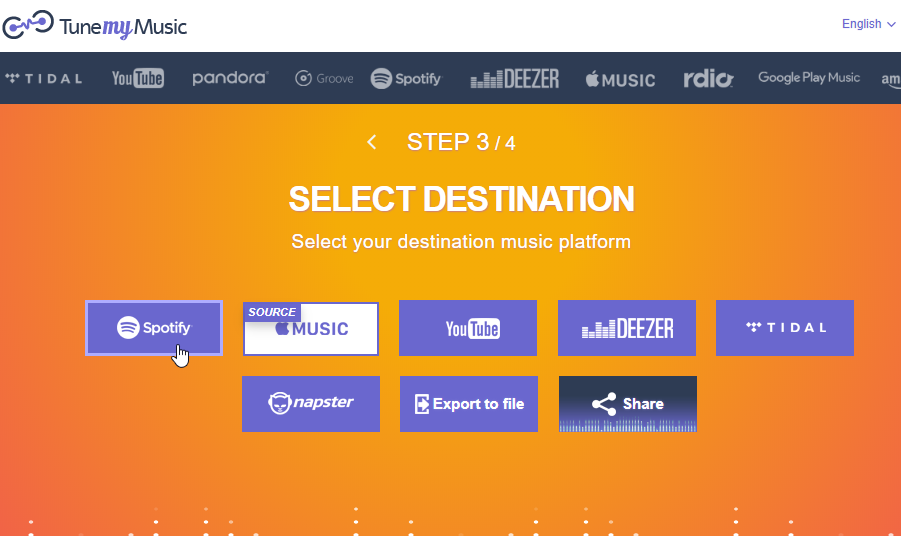 Step 5. View all tracks from the playlist if needed. If no problem, click Start Moving My Music to start transferring your music playlist from Apple Music to Spotify.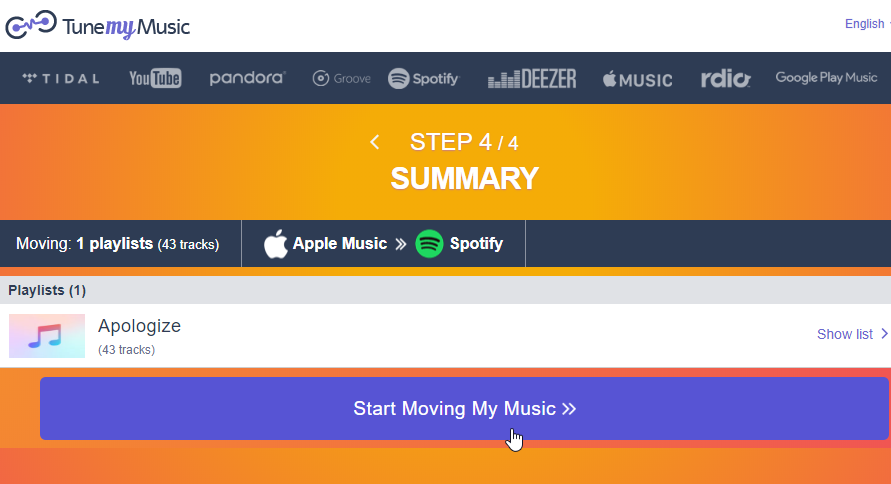 When the transfer is done, it will generate a playlist link that allows you to share your Apple Music playlist with others. For those who want to find a way to share my Apple Music playlists to others who don't have Apple Music subscription,  this is the way.
Very simple, as you can see. You can transfer all playlists, artists, or the entire music library.  I am pretty impressed by this free service. I can also export my Apple Music to a txt or csv file as a backup.
Convert Apple Music to Spotify on iOS
If you like to use a mobile app, then SongShift is a great choice for transfer playlist from Apple Music to Spotify. SongShift allows you to transfer music playlist agony  many music platforms including Apple Music, Spotify, YouTube, Tidal, Deezer, Pandora, Discogs, Lost.fm, and Napster.
If you don't upgrade to the paid version, which is $3.99, you can connect only two music streaming services. It is enough for you to move Apple Music playlist to Spotify. Let's see how it works.
Free download SongShift from Appstore.
Open the app and follow the steps to grant it access to your Apple Music account and Spotify.
Tap on the Apple Music and select a playlist that you want to transfer Spotify. For free users, you need to wait for a few seconds while the ads running.
Select Spotify as the destination. You can create a new Spotify playlist or select an existing playlist to receive the songs.
If you ever want to transfer music playlist to another music service, just disconnect Apple Music and connect another.
Move Apple Music Playlist to Spotify on Android
Unfortunately, it is only available on iOS providing a free and paid version. If you use an Android phone, then you can use Stamp, which also comes with a free version. Well, the free version only allows you to convert 10 songs from a playlist.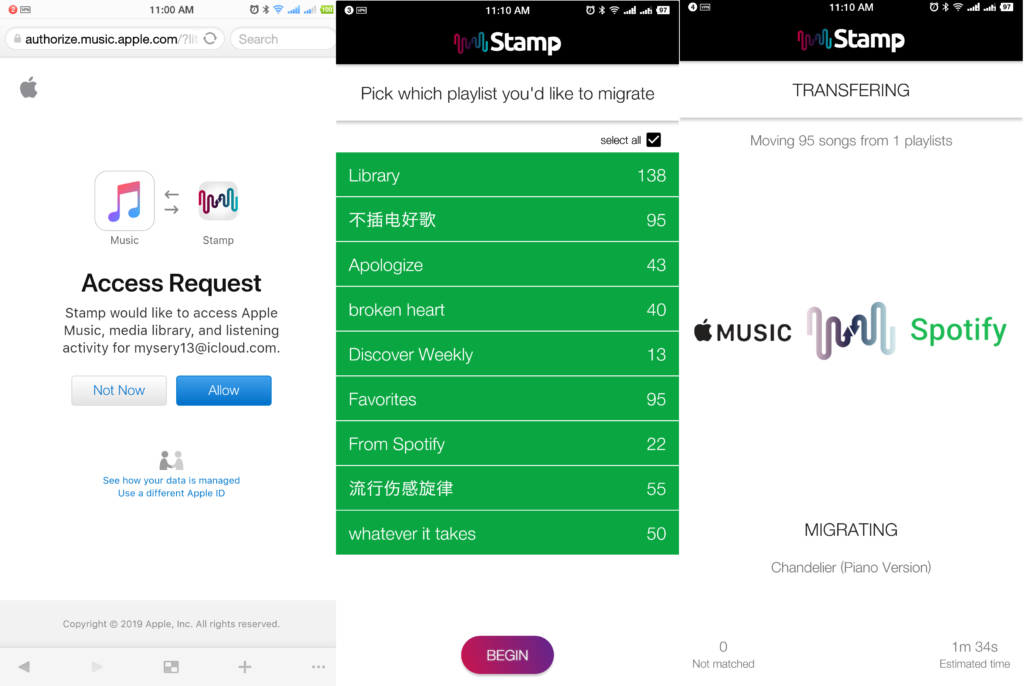 If that's not a problem for you, you can download it free from Google Play to get started. When connecting Apple Music, it will redirect you to a web browser to authenticate. The next time when you want to transfer music from Apple Music, you have to do it all over again.
I really don't like its experience, but that's the only free app that I have found on Android. if you have a better solution for Android users besides Tunemymusic, the free online service, let me know in the comments.
Move Apple Music Playlist to Spotify with Siri Shortcuts
Shortcuts is a great app for task automation on iOS. You can use shortcuts to convert Apple music link to Spotify. I have created a shortcut that allows you to convert a playlist from Apple Music to Spotify. If you are interested, follow the steps below to set it up.
Easy setup but expires in 1 hour
Step 1. Free download Shortcuts app from Appstore.
Step 2. Open your web browser and go to developer.spotify.com to enable Developer access.
Step 3. Go to Console, request the Uauth Token. Be sure to select Playlist-Modify-Public and Playlist-Modify-Private scopes.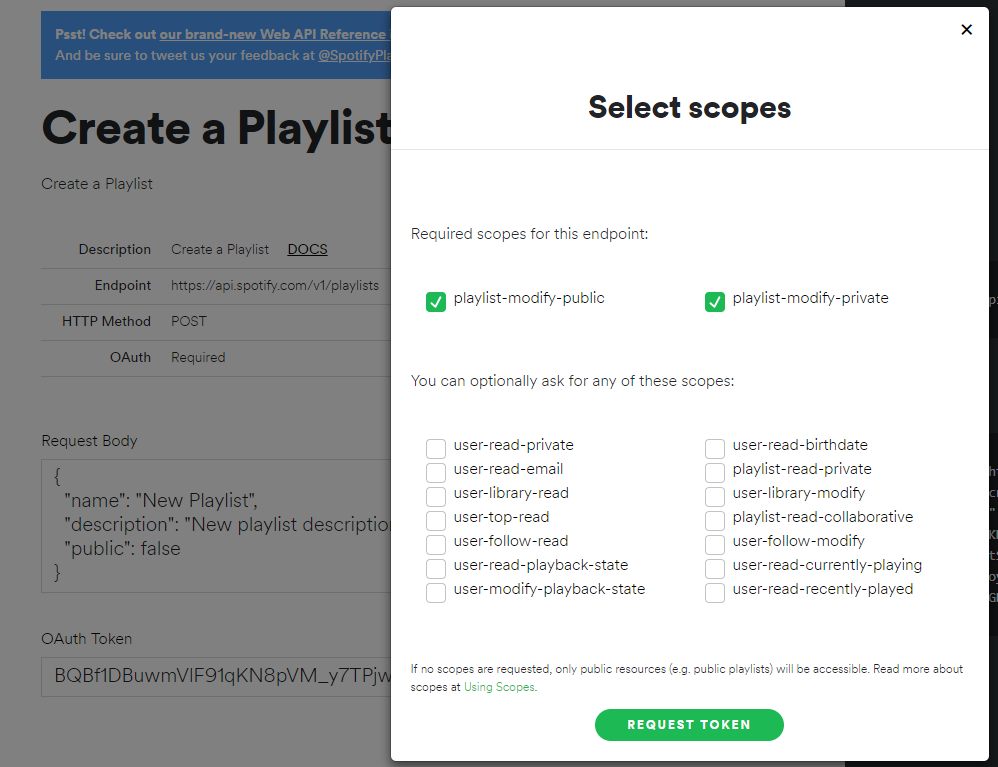 Step 4. Get this Shortcut and Paste the Spotify Token you requested to the first text action. Also, change the User ID to yours.
Step 5. Run this shortcut to transfer Apple Music playlist to Spotify.
Complicated setup but works all the time
This  Token will expire in 1 hour. If you don't want to copy the token every time you run this shortcut, you need to go through a few more steps to set it up.
Get this Spotify Authorization Code Flow shortcut. Open the shortcut in edit mode and enter your Spotify Client ID and Client Secret.
Run this shortcut to get Access Token and Refresh Token. You will be lead to a Safari web page and from there, login to Spotify, and click the "Agree" button. Then copy the code from the URL (everything after "code=" until "&state=…" and then go back to Shortcuts app.
Get this Refresh Access Token shortcut. As Step 1, enter your Client ID and Client Secret.
Get this Apple Music Playlist to Spotify shortcut. Enter your Spotify User ID.
Run this shortcut to transfer Apple Music Playlist to Spotify.
Now the step up is complete. If you like to use Shortcuts to transfer playlists between two music services, you can also convert Spotify playlist to Apple Music.
Actually, if you modify this shortcut, you can also transfer a few songs from your music libray to Spotify. Just change the Action Get Playlist to Get Gongs. If you get to know more about Siri Shortcuts, you would find it out it can do more than you can imagine. For example, you can use this 5 shortcuts to download free music on iPhone.
All these three free methods can help you convert Apple Music to Spotify. Now it's your turn, which of these methods do you like the most? Share your experience on how to transfer music playlists.